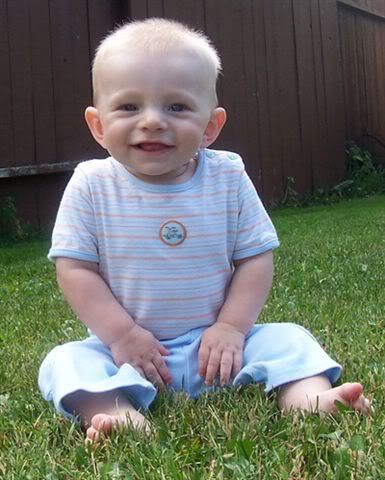 Well, Connor has come a long way in the past couple weeks!! He now sits independently for minutes at a time!! He is figuring out how to put his hands out to stop himself when he wobbles, and, for that matter, he barely wobbles at all any more! Just last week he could only sit for a few seconds- how quickly they learn!!I am so proud of my little guy! This opens up a whole new world for him! He also scoots along the floor to get whatever he wants. Hmm... I guess it's time to babyproof!!!
So, of course I had to do a little photo shoot in the yard to celebrate his upright status! Be warned, many, many pictures to follow:
In this picture he was petting the grass, and then I realized, "Why on earth am I putting him on a towel??? Feel the world little man!!"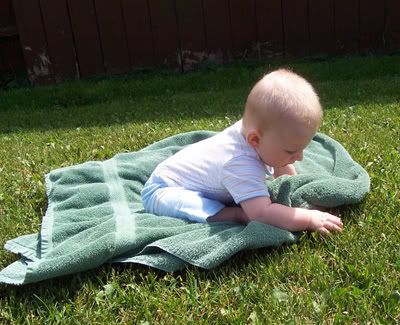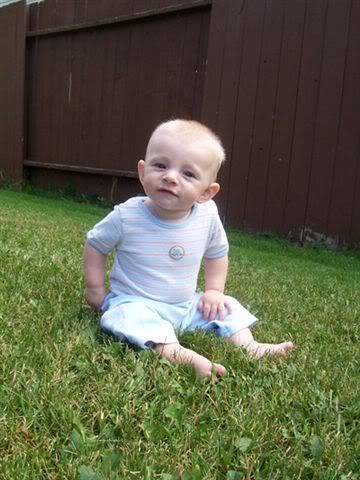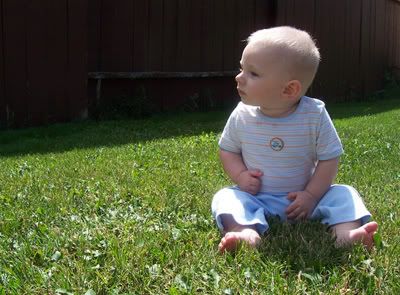 I love his li'l round noggin!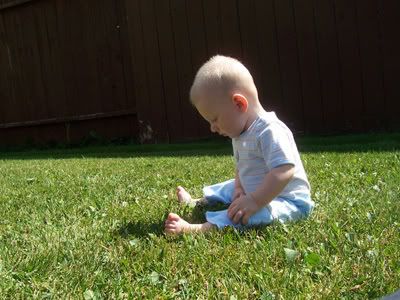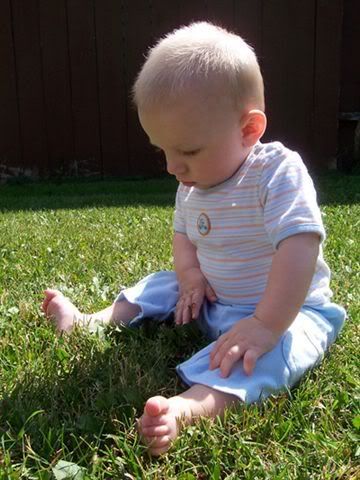 I actually sat him down in the yard, went on to the deck let the dogs out, and then snapped this picture... Seriously, he sits like a champ!!! Look how tiny he looks!!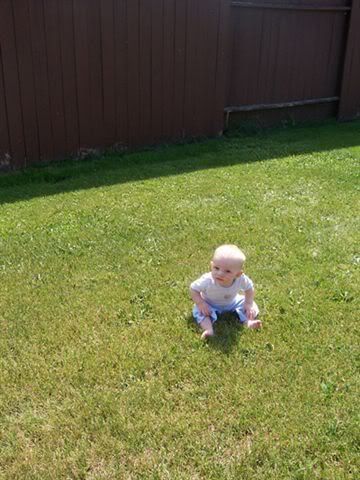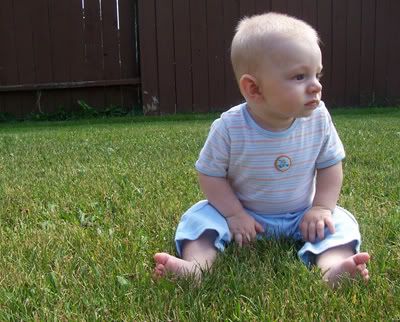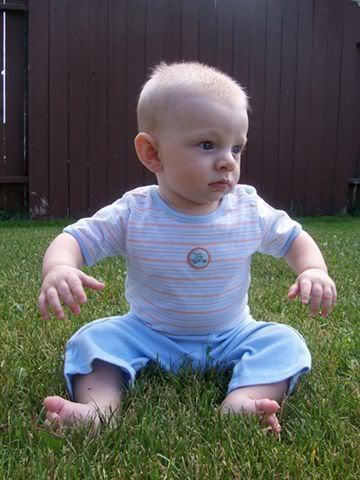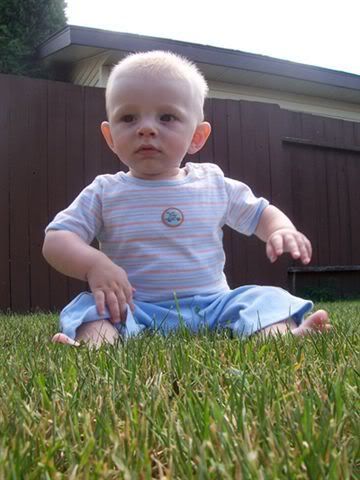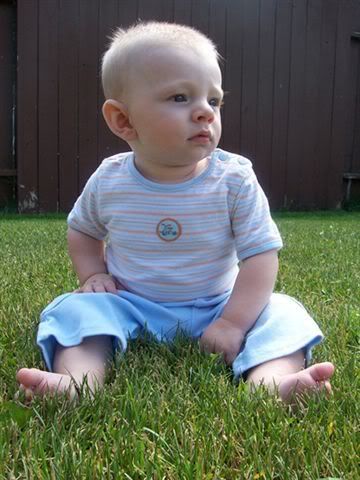 Other than that, not much is new. We are really working hard on getting Connor to sleep better. I think it's working! He can now be put down awake and he stays pretty happy. Naps are another story though because I really like napping with him! That way I can usually get an hour out of him, instead of his usual 30-40 minutes. I was sort of just trying to make him get the most sleep possible during the day so that he wouldn't get overtired by the evening. I think that has really helped him sleep better at night, but now I have to work on getting him to nap longer during the day! He usually has three naps: one around 9am for 40 minutes, one around 12:30pm for 30 minutes, and a wee nap around 4pm for 25 minutes... so that's just an hour and a half, all day! From what I hear most babies take two naps of at least 90 minutes each - that would be fabulous! But, hopefully now that he is sleeping okay at night, that will in turn help his naps. We will see!!
On the feeding front, Connor still isn't particularly happy with anything we are feeding him, but we are taking things really slowly, so it will be another week before we start veggies, and then another week or two before we introduce fruits. I figure once we get to fruits hopefully he will like something!!
Daddy has taken to feeding Connor supper if he is home from work on time. I think they have a good time together!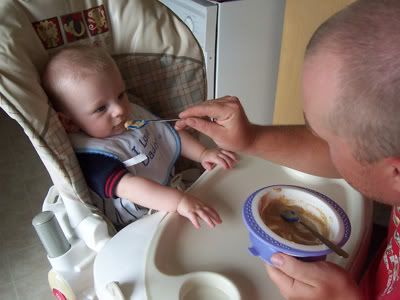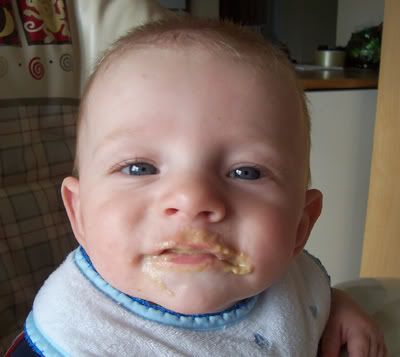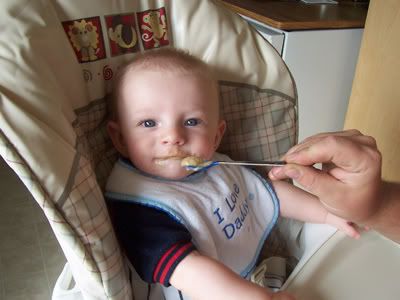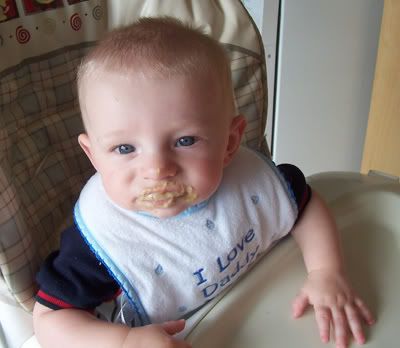 Daddy gives me BIG spoonfulls!!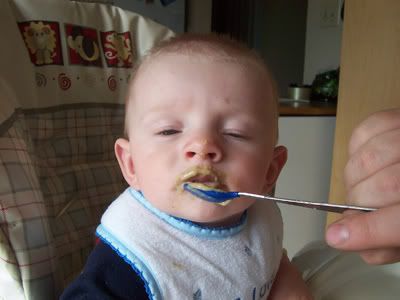 Dad!!! You got some in my nose!! Don't you dare try to feed me that again after you scrape it off of me!!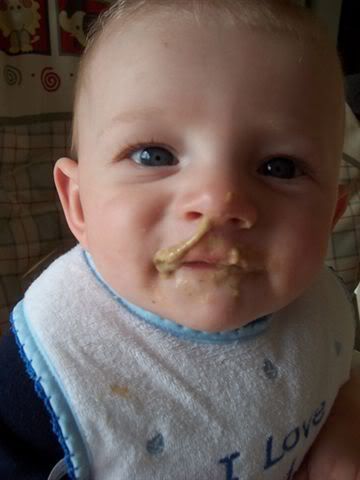 And, just a few more pictures from the last few days: