Connor has a very busy first Christmas, but I think he had a great time! His bedtime over the past week ranged from his normal 6pm, to a couple 9:30pm nights, to a very hectic 1am bedtime on Christmas Eve, but thankfully he slept in the car!
Well, where do we start? Connor's Christmas actually began on the 23rd of December, when we visited Grandma and Grandpa Mellott's. Uncle DJ was there, and also Uncle Dale and Auntie Elvie. Connor had a wonderful time unwrapping altogether too many presents! Mom and Dad were silly and forgot the camera though, so we don't even have a picture of Connor opening his first Christmas present!!
Christmas Eve was a very busy day! We started out at Oma and Opa's house for a big gathering with all the family:
Connor had a ton of fun hanging out with his big cousin Kaden: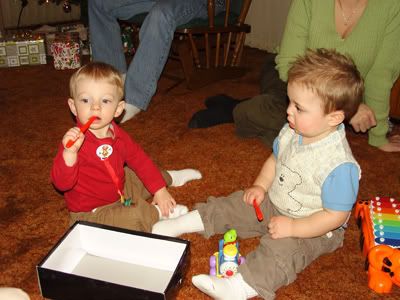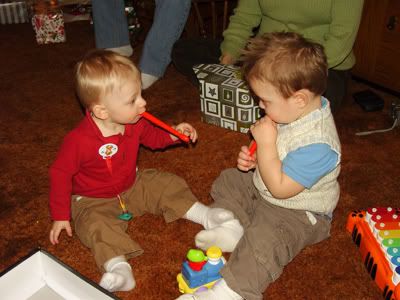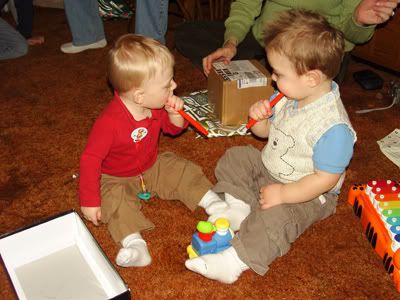 And he loves his Mike Wazowski!!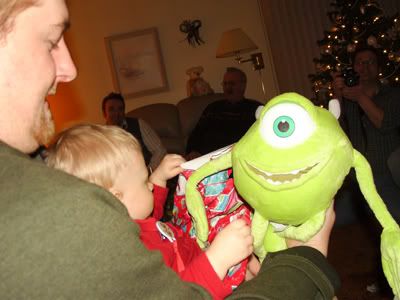 He also learned to anticipate the flash from the camera, so it's very hard to get a picture with his eyes open now!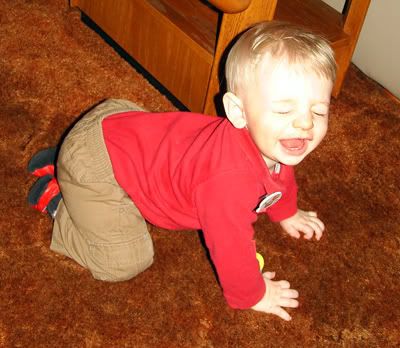 But eventually we got one!
Connor also got his first puzzle, and a really cool train(which has a song that has been in my head constantly since then!) And, a really loud set of bells, which strangely enough, I told my mom to buy for him! He loves them though, but not as much as Derek does!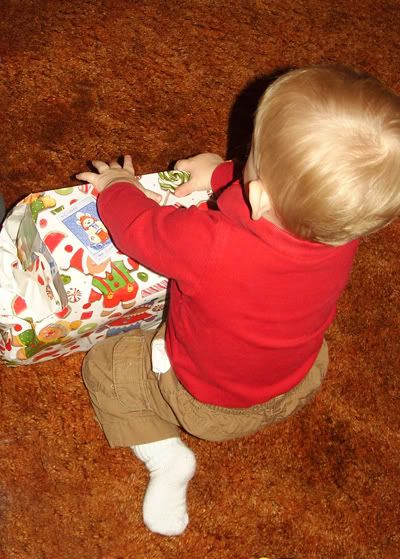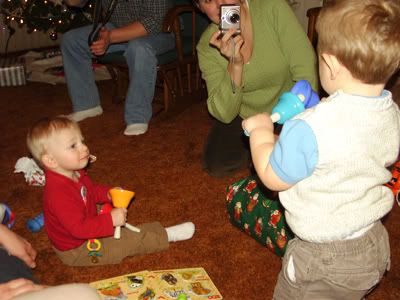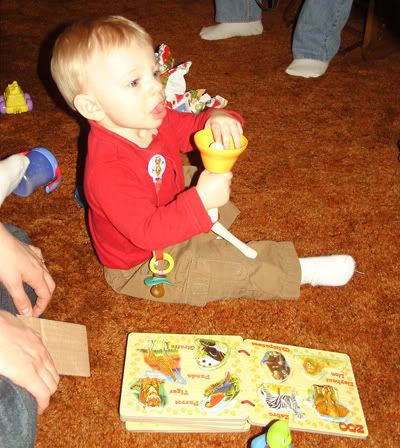 Later that evening, we drove to Grassland for the Mellott family Christmas, and we finally got that 4 generation picture I mentioned before!
Grandpa Mellott, Daddy Mellott, Baby Mellott, and Great-Grandma Mellott, together at last!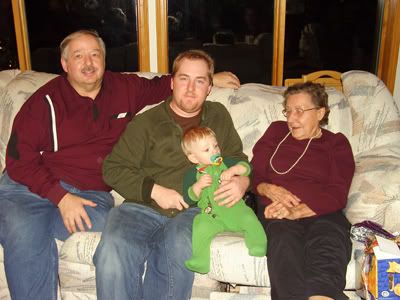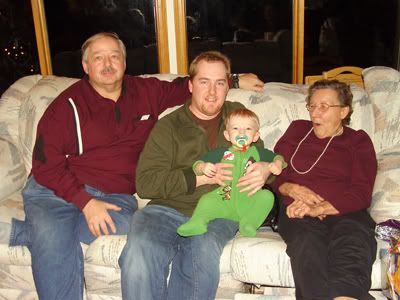 I can see a resemblance in all of them! Very neat!

Then, we had our very first "Christmas Morning"! Derek and I have grown up both doing the big get together and gift opening with our families on Christmas Eve, so it was really special to start our own tradition with our little family! We didn't take any pictures until after everything was all said and done though!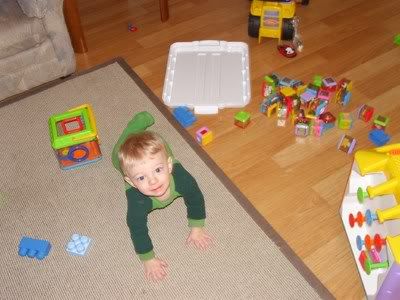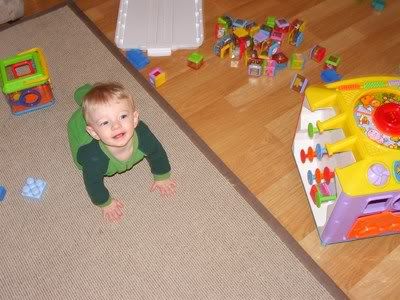 Then, last night we headed over to Grandma and Grandpa Smith's house for another Christmas celebration!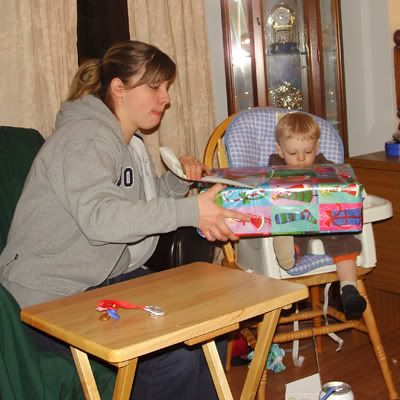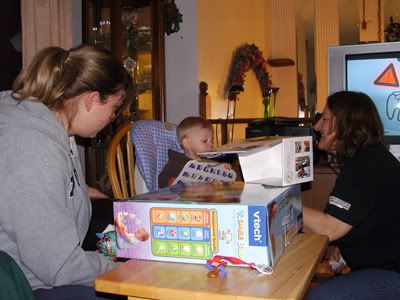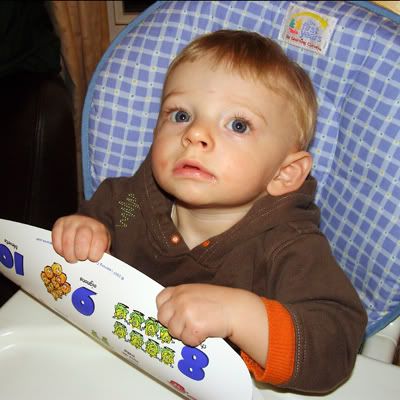 Connor got his very first "gaming console" which, as you can imagine, Daddy was very excited about!
So, Connor's first Christmas was a week long event, and a very special one at that! I will remember it forever!
In non-Christmas news, Connor is waving at everything and everyone, including people on TV, and anytime anyone leaves the room, or every time I carry him in to his room! It's totally adorable!
He has also recently aquired a fascination with eyes, (which I am sure is due to Mike Wazowski's prominent Uni-eye!) If you ask him where are "_____"'s eyes, he will more often than not point at them, but not on real people, only on stuffed things!
He is also standing more and more lately, and for longer periods of time. But sadly, he is still working on those top two teeth, and they, on top of trying to recover from a very disrupted schedule, and wreaking havoc on his night sleep. So, I will leave it at this, as Connor has just awoken, and is not very happy at all!
Wishing everyone a safe and happy new year! Two weeks and counting until Connor turns one!