Well, sometimes he does...for a few seconds! He is really really close to sitting on his own! It won't be much longer now! We are practicing every day! It's super cute because you can see him start to wobble, and then he goes over to the side and flops on to his belly!
We are also starting to try and get him to drink from a cup. We just started with the sippy cup yesterday, so for now it's just another toy for him to chew on, but every once in a while he actually gets the spout part in his mouth!!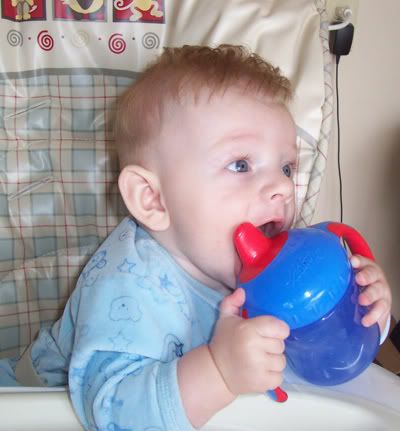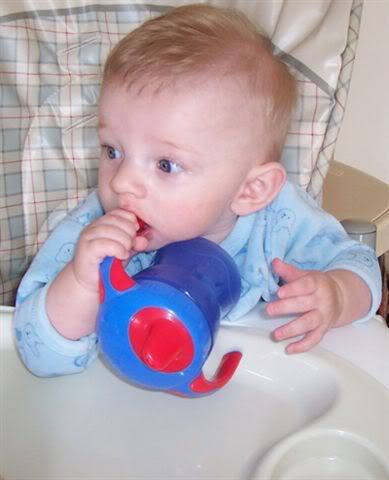 We also got him a little bowl that suction cups to the high chair tray, but Connor can peel it off and loves to throw the bowl over the side of the high chair! I can see how this will pose a problem once there is actually cereal in there!! We have decided that we will try out Rice Cereal for the first time on July 14! Connor will be 6 months and 2 days old. I wanted to start on a Saturday so that Derek will be home to help, and take lots of pictures!! I am excited, and yet sort of scared to start this whole new realm of nourishment!! It has been so easy up to this point!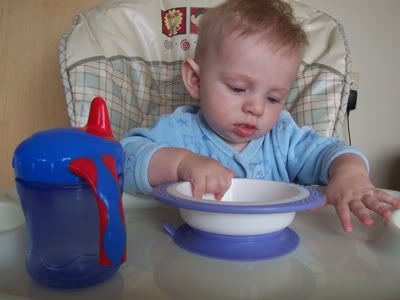 Here's a few other cute pictures from the last few days: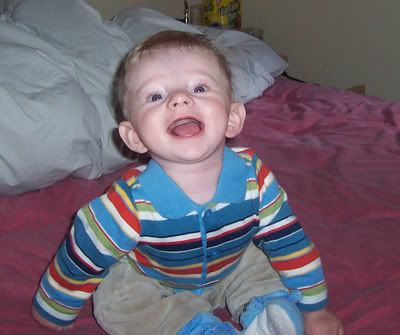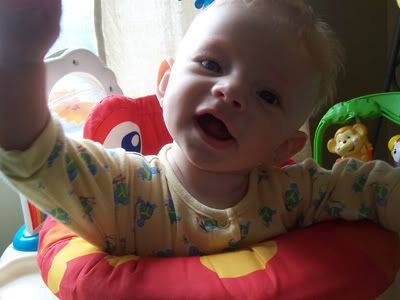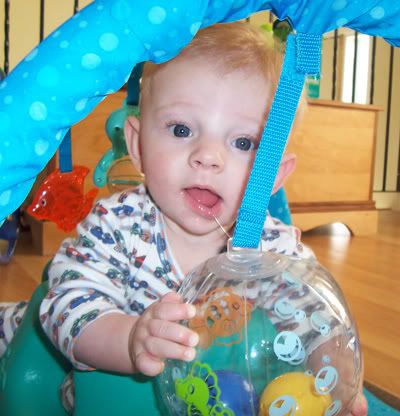 See, he is not always happy!!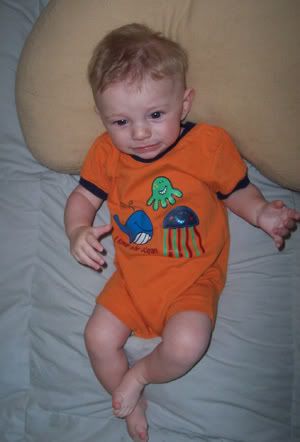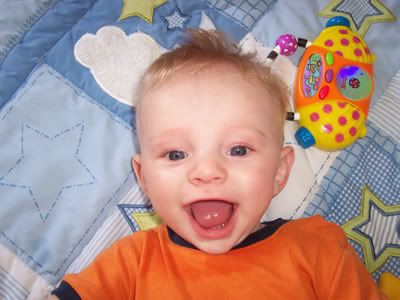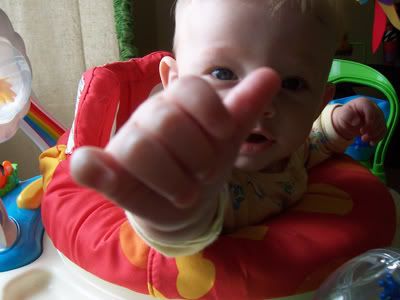 Things aren't going so well on the sleeping front however. We had gotten almost back to normal, with him going down really easily for naps, and almost as easily at night, but this last week he just went completely back downhill! It's been really hard on me, actually, because I feel like I am doing all the right things, trying to put him down awake, not let him nurse to sleep, keep the same routine... all the things I had read about that were supposed to instill good sleeping habits. And yet, it seems like he hates going to sleep! I am hoping that we are just going through another one of the Eight Great Fussy Phases, as talked about in
'The Wonder Weeks'
. (A really great book by two Dutch doctors!) The book has a timeline in the front about when babies are supposed to become more fussy, and the reasons why, and Connor has been following it pretty much to a "T" actually! So, if it holds true, we are going to have trouble getting him to sleep for the next four weeks! Ack! I don't know if I have it in me! He actually didn't nap today...at all. And not for a lack of trying, either! He would be rubbing his eyes and yawning up a storm, but just when I finally thought he was calming down and falling asleep, he would pop back awake and there was no getting him to even look drowsy again!
So wish me luck for the next few weeks!!