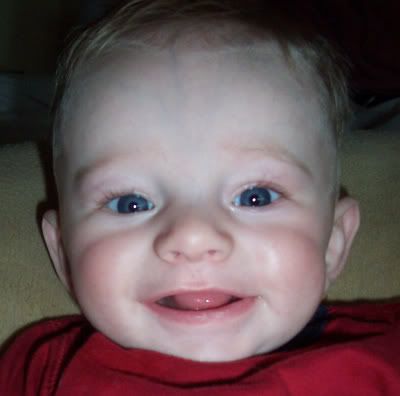 Well, Connor is five months old today! My little guy is growing up so fast!! I got him weighed and measured today, like I do every month, and it seems like I will be able to call him my little man for a long while yet! He only gained 6oz., weighing in at 13lb.12oz, but he gained three whole inches in length! He is now 27.5 inches! I guess he's just a lanky li'l thing! I have to admit, I was hoping he would be at least 14 pounds, but he is still gaining slowly but surely, and that is all that matters!
The weather today was very windy and yucky, so we don't have any outside pictures, like I was hoping, but I did take a few of Connor on our bed, which is something I have been doing since day one, so that's kind of neat!
Connor is on his third nap today, his first two were an hour each, which is awesome! We are approaching the 40 minute mark right away here, so we will see if he takes another hour long nap, or if he wakes after his usual 40 minutes. He is getting really good at being asleep by 8pm too, so things are slowly progressing back to normal! Thank Goodness!
Oh, I hear him waking up now! Oh well, could I really expect three hour long naps in one day?
Here are a few more pictures from today, and the last few days. I think I got some good ones!