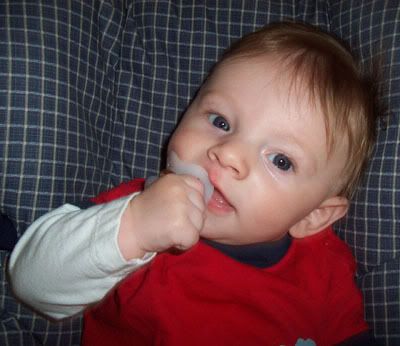 I have some mixed feelings about this one... tonight I gave Connor a bottle of formula. He hasn't had any formula since his first couple weeks of life when we had to supplement because of jaundice.
I decided to go ahead with the formula because I don't seem to have enough milk to keep him happy in the evenings. For over a month now he has been getting a bottle of pumped milk at night, but I am finding it harder and harder to pump enough. Sometimes it takes me two days to get enough to supplement one feeding, so after much deliberation I have opted to give him one bottle of formula, before bed, but I will nurse him then also. I think there will be some nights that I still give him pumped milk at night instead of formula, but I think it's maybe a good thing he takes formula also. I am considering this his first baby step towards solid food!
I have nothing at all against formula, I am just worried that it will make my supply issue worse, and, it makes his burps and poops super stinky!!
He ate about 5oz of formula, and didn't seem to want any more so I am assuming he was full, but he still fussed quite a bit before falling asleep, tonight he went to sleep at 10:22pm, but then woke up 10 minutes later because he threw up! I cleaned him up and he went right back to sleep, so I guess 10:40pm was his official bedtime tonight. Not really much of an improvement, so I don't know if the formula will make him happy at night either!! I'll give it a try for a week and see what happens.
He used to fall asleep so great at night, so I am sad that he has such trouble with it now. I sometimes think that he is overtired, since he doesn't nap well in the evenings, but if I try to put him down earlier, he just fusses for longer!! To be honest, he seems to do the best when I keep him up later than normal! I guess I just have a night owl on my hands!! I am trying to get him down a few minutes earlier each night, but, alas, so far it's been pretty erratic! We shall see how the formula affects the bedtime routine, I suppose!!
Yesterday I got Connor's Bumbo tray in the mail! They never had one at Babies'R'Us so I just ordered one off of eBay! I think he really likes it!! We sit him on the kitchen table during dinner and he plays with his toys while we eat! Before he wouldn't stay happy in there too long and his toys would always fall everywhere, and now he is able to amuse himself for much longer!!