Today was Connor's four month shots. He cried pretty hard as he was getting them, but he stopped really quickly afterwards, and he fell asleep on the way home! It's only about a three minute drive too! When I got home I took him out of the carseat and put him down in the crib and he went right to sleep for about 40 minutes.
He had a few short naps throughout the rest of the day. He was being quite needy, wanting to be held all the time, but I was okay with that! I really like being the thing that makes him feel better! If he is similar to the last round of shots, he should sleep a lot tomorrow, so it will be a pretty mellow day at Oma and Opa's house!!
They also weighed and measured him, so as of today he is:
Weight: 13lb 6oz
Height: 24 3/4in.
Head Circumference 40.2cm
He is back up to the 50th percentile for weight after dropping to the 25th last month, so I am super happy with that!
I finally got a video of Connor laughing! This is from yesterday. Isn't he adorable??
And here are a few more pictures from the last few days, I am really loving his new haircut!
Here he is yawning during our weekly walk in St.Albert!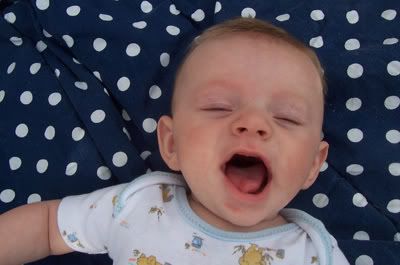 Look at my happy li'l guy!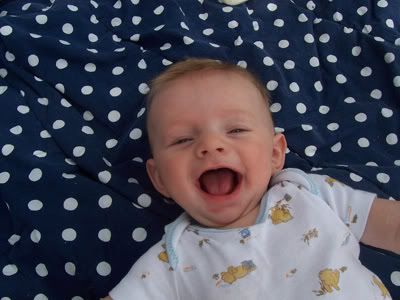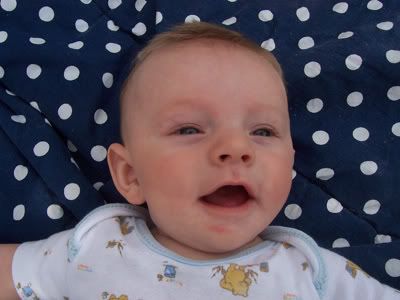 And a couple Jumperoo pictures! He sure bounces like crazy in there now!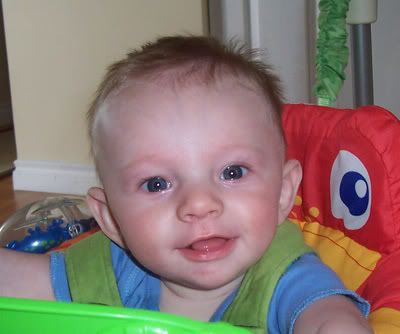 I love his smile in this picture! Check out those gums!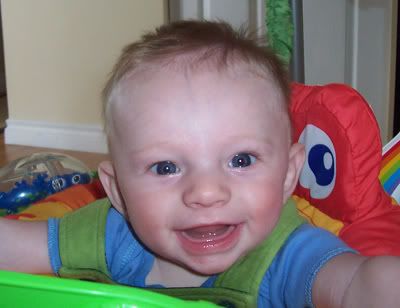 ---
Tonight's Bedtime 9:00pm. Not bad considering he had his shots today! He was a little harder to put down, but he still did really well!