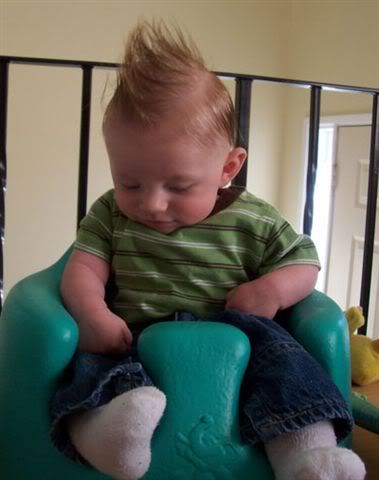 The mohawk that is!
I have come to terms with the fact that I really need to get Connor's hair cut! I think I will actually take him in to get it done because I haven't the slightest clue how to cut his hair, and it's sort of his crowning glory, so I want to make sure it's done right!! Until then, I think Connor will be rockin' the hawk more often. He needs to make the most of it while he has it! Plus, he likes to rub it in Daddy's face that he has significantly more hair than him!!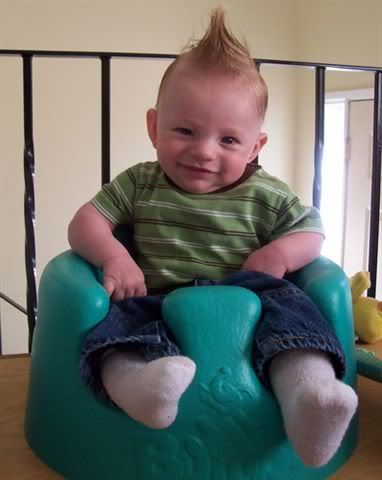 In other news, Connor has recently discovered his feet! He can't quite reach them yet though!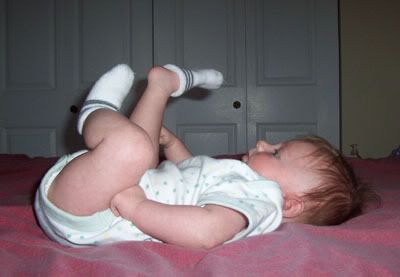 Today Connor and I went for a long walk In St.Albert with Beth and Jamie! The weather was fantastic, and there were so many other people out with their babies in strollers! We stopped so the boys could have some lunch and relax in the sun for a little while: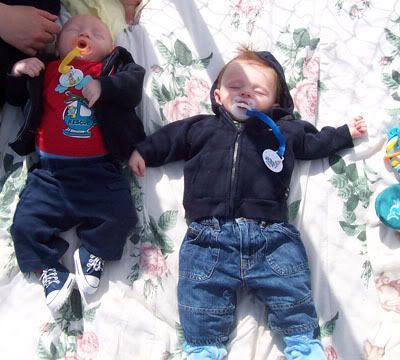 And yeah, that was me who brought the blanket with pink roses on it!! Beth says it'll teach the boys to be sensitive! Well, sensitivity is good, but next time I am bringing my blue polka-dotted one! A much better backdrop for photos, if I do say so myself!
You'll never guess what time Connor went to bed tonight...10:04pm! Thats a full 24 minutes earlier than last night! We're talking leaps and bounds here people, leaps and bounds!!
Apparently all Connor needs is a three hour walk each day! Whew, mama needs a new pair'o'walkin shoes!! Now, as long as Beth and I don't get Slurpees
every
time we go, maybe I'll eventually get back to pre-preggo shape!!