You wouldn't believe all the things he has learned in just the past two weeks!! I shall list them for you here:
He makes "razz"berries! The first time he did this was April 19 at the Dr.'s office, then he did it a few more times at my parents house later that day. The day after, he was doing it like crazy! Too cute!
He rolls from back to tummy. Now, as I mentioned in a previous post, I have yet to see him do this, he just ends up on his tummy when I go to get him in his crib.

But, today I SAW him roll from tummy to back!! It's cool, he does it real fast, all in one motion. I still think this is because his big head just tips over and the rest of him follows, but I am proud of him nonetheless!
He takes his soother out of his mouth and puts it back in! Okay, he only has like a 3% success rate at putting it back in, but still...impressive!!
Now here's the kicker - A few days ago, he barfed and then said, "uh oh!" I kid you not!! Genius I say!!
Check out this picture of Connor sleeping during his morning nap today. He is a tough one to get to sleep, he likes to fight it, but once he gives in he is out like a light!!! I am also proud to say that I have completely transitioned Connor from napping in the swing, to napping in the crib!! It actually only took about a week, and now he has much more predictable naps, and I am way better at realizing when he is sleepy.
Here's a few other cute ones from today and yesterday: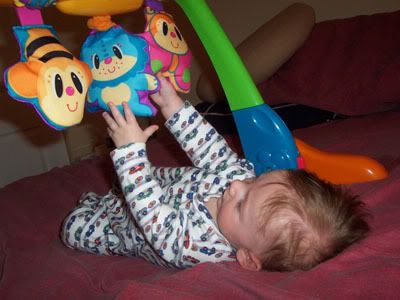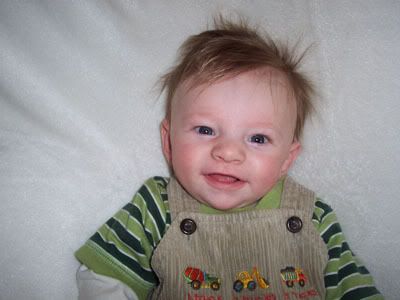 I figure I'll probably keep track of Connor's bedtimes on here until I reach my goal of 8pm. We've got a long way to go yet!! Today he was in bed at 10:28pm, which seems like a little progress from last time, but really, it's not, because I started our bedtime routine about 45 minutes earlier today! I just couldn't keep him happy, so I ended up giving him his bath at about 8:30pm instead of 9:15pm. I wonder if he would have fallen asleep at the same time with a 9:15pm bath?? I swear I think more about how to have a successful bedtime routine than anything else!
Well, that's about all for today! I might actually be asleep before midnight tonight!