It has been a whole week since I have posted! I don't think I have ever gone that long before, and I shall try not to do it again!
Not too much new has gone on this week, and yet it has been really busy!! Connor is getting much faster at crawling, and has become ever more curious! He loves opening and closing any and all doors, which makes for a fun game of peek-a-boo, but it sometimes leads to Connor locking himself in a room! It's hard for me to get in there to get him, because he will stand up at the door as soon as it's closed!!
He is also working on standing independently now, he will stand for a second or two if we steady him and then let go. He is also starting to let go when he has pulled up on something, and really trying to move from one object to another, even if they are pretty far apart, which needless to say, has lead to a few tumbles and bumps as of late!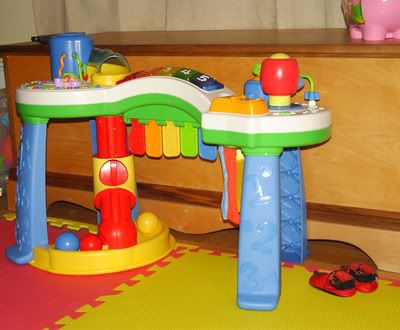 Derek thought that Connor's tiny shoes parked by his toy were very cute, as do I! Sort of like the office worker who keeps a spare pair of shoes under their desk...
Connor's teeth are coming up nicely! I still wonder if he is getting another already, but it's seeming less and less like it these days...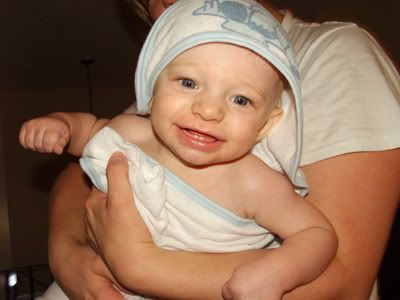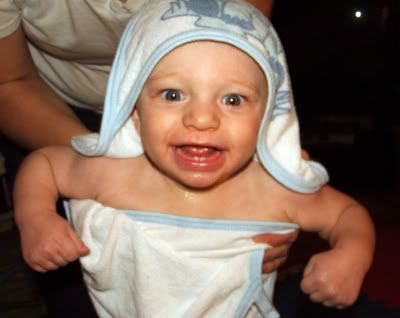 And a couple more post bath pictures: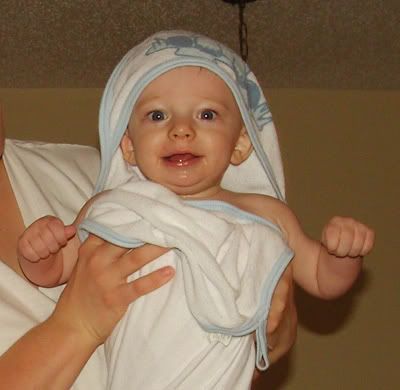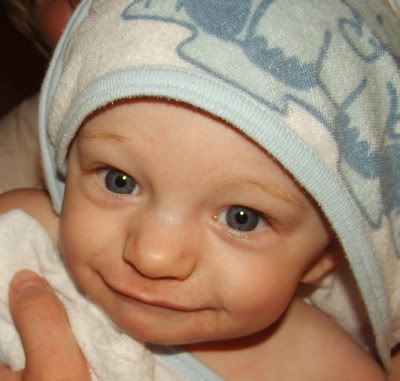 Here's a couple pictures of Connor with his best pal, Leo!
"Hey doggy! You aren't supposed to be up there!"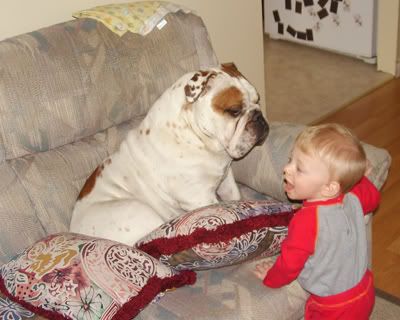 "I'm gonna get you!"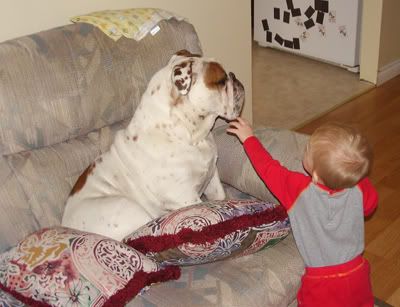 Connor is down to one bottle a day, before bed. The rest of his formula he has from a sippy cup while doing laps around the house!

Crawl, crawl crawl, oh, here's my milk!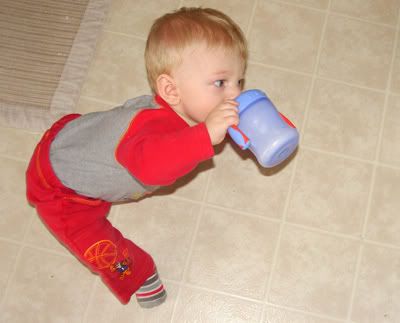 I am not sure how I will get rid of that last bottle, because Connor is sleepy so early, and goes to bed right after supper! He is now sleeping from 6pm to 7am, which makes it hard to get in sippy cup time after supper! But, he still only averages two 30-45 minute naps a day, so he needs all that night sleep!



Connor has discovered magnets! He likes to peel them off the fridge and stick them back on, over and over! Which is great, because it gives me a few minutes before he makes a beeline to the dog dishes!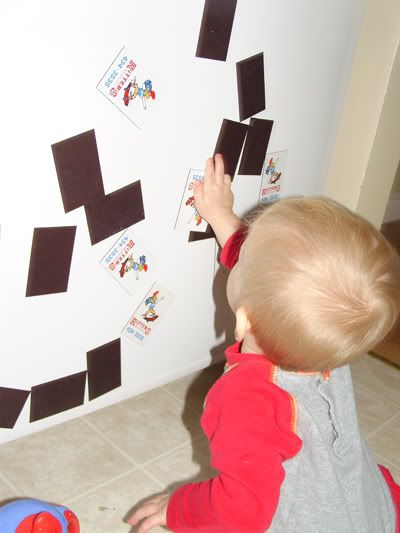 And lastly, just a couple pictures I really like. I think Connor looks so sweet and innocent!