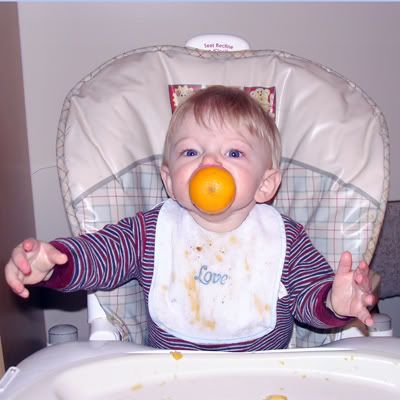 And that is officially the last time I can say that... in a mere 4 weeks, my little man will become a bona fide BIG BOY! I cannot believe it's been almost a year since we brought this little guy home. It seems like just yesterday!
He is learning so many new things lately, and it's so amazing to watch, even though it's things that we completely take for granted. For example, Connor has just learned how to put lids on things. It seems so simple, but when I showed him how, and then he copied me, it was as if something clicked in his head! Very cool.
Today Connor got his picture taken with Santa! It didn't go to well, but we managed to get a cute picture before the tears started, anyway! I will get Derek to scan it so we can add it to this post, too!
Connor is also working on getting his top two teeth. A couple days ago, he was being silly when I was feeding him and blowing all the food back out, but in the process, you could totally see his top gums, so I snapped a few pictures to see if I could tell for sure if he was teething. I am always very doubtful, but I think these pictures prove it!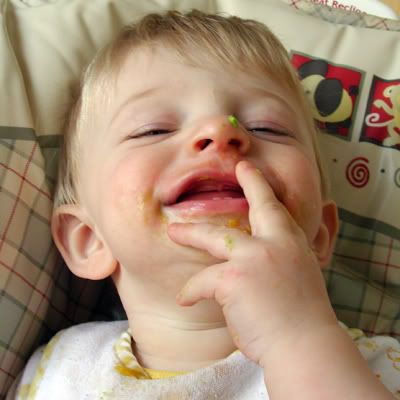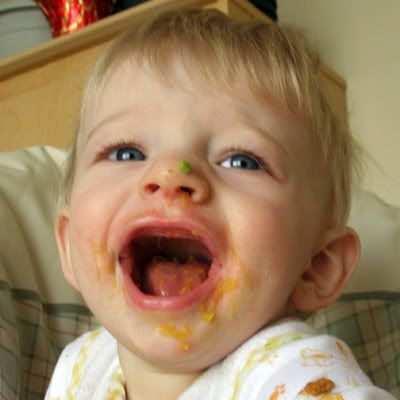 In these last two, you can really see the white spot just to the left of middle: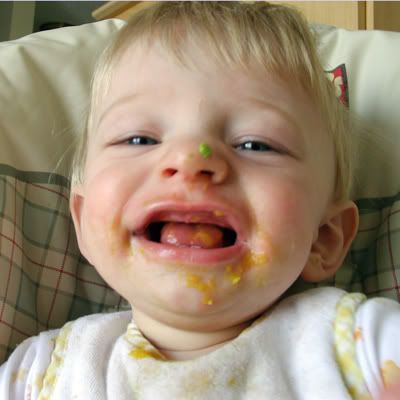 Before we left to go see Santa today, I was letting Connor chew on a mandarin orange for a bit, but he seemed to prefer throwing the orange at Leo. Well, while I was getting his supper ready, I gave it to him again, and after a few seconds, I hear this slurping noise! Connor had pierced a hole in the peel with his teeth, and was sucking all the juice out! I hadn't planned on actually giving him the
inside
of an orange until he was a year, but I probably should have known better than to let him chew on a whole one!
But, no harm done! He absolutely loved it, and there haven't been any tummy problems, so I think we are in the clear!
I did, of course, snap a few photos!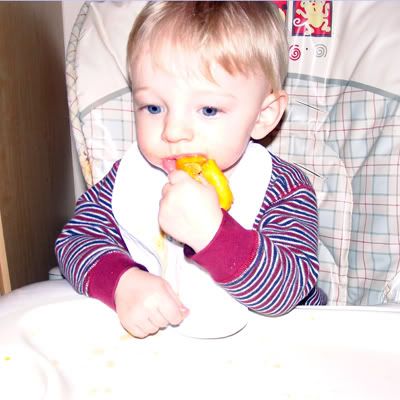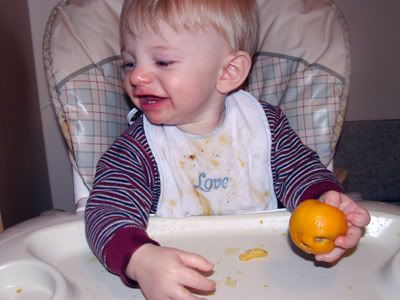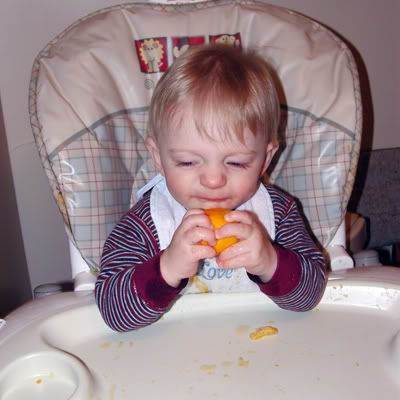 I haven't written anything about Connor's sleep habits in a while, so I should probably give an update, as things have changed quite a bit since I last talked about it.
Connor seems to have dropped to one nap, which is still his usual 30-40 minutes in length, but he has taken to sleeping anywhere from 13-15 hours straight at night! His usual bedtime is 5:30 or 6pm, and he is up around 7:30am, sometimes later. I have thought about keeping him up later in the hopes that he will then take some decent naps during the day, but it just doesn't seem to work like that for him, so I am leery to try it. Plus, he is so painfully tired by 5 that I already feel bad keeping him up until 6pm, so he usually goes down earlier. I have heard that during the winter months children tend to get more night sleep, but it's not supposed to be at the cost of naps! According to
Healthy Sleep Habits, Happy Child (Weissbluth)
Only 10% of babies are down to one nap by a year of age, and it seems as though I have one of them!
Well, that is all for now! I will leave you with Connor sporting his Flock of Seagulls hairdo - this boy really needs a haircut!!